US 421 Emergency Bridge Replacement
Submitted by the Potomac Section
| | | |
| --- | --- | --- |
| | Construction Cost | $9,300,000 |
| | Project Location | Wilmington, North Carolina |
| | Project Owner | North Carolina Department of Transportation, |
| | Project Designer | HDR |
| | Contractor | S.T. Wooten Corporation |
| | Completion Date | June, 2020 |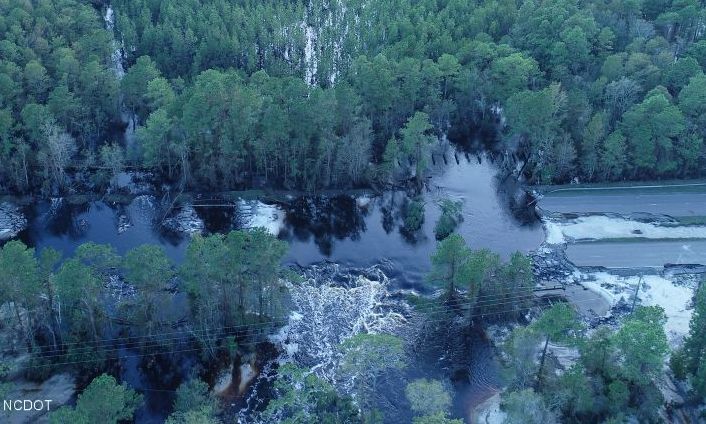 Project Description
NCDOT needed to provide a permanent repair to the failed US 421 roadway section as quickly as possible given the importance of this corridor to the City
of Wilmington. It was also important to provide a repair that would likely not fail during the next extreme event. Balfour Beatty constructed an emergency
temporary bridge and opened it to traffic within 30 days of the washout.
The HDR design team produced 95% complete bridge and roadway plans for a dual, 560-foot-long bridges 33 calendar days after they were first called by NCDOT. S.T. Wooten opened the first permanent bridge with one lane of traffic in each direction on September 19, 2019, and opened the second bridge to traffic on June 3, 2020, fully restoring the functionality of US 421.
The reconstructed US 421 is significantly more resilient to future flooding events. Meanwhile, the SRH-2D modeling effort provided the critical design
information and support for federal assistance, and as a bonus, increased NCDOT's knowledge and understanding of SRH-2D modeling's benefits.
Project Features
Thirty-three day design time
First NC use of sedimentation and river hydraulic 2-dimensional
(SRH-2D) hydraulic model.
Replaced 78-inch culvert with 560-foot bridge to improve multiple drainage issues